Project Description
At the botton of the page a new youtube video by  Peter van Rijssen  from royalty Management agency Plantipp BV/Concept Plants USA

Now available in Japan see details bottom of the page December 2016
 If you have this in your garden or in a pot and it is looking a bit yellow FEED NOW  with high nitrogen fertilizer May 23rd

During the winter this amazing glossy evergreen Sarcococca  'Winter Gem' shrub is,
smothered by highly fragrant honey-scented white flowers; each one emerging from a deep red bud. It is perfect for borders and containers, or as a low fragrant hedge. It is an absolute must-have for your garden bearing its glossy green leaves and beautifully fragrant flowers in the depth of winter when the rest of your garden is dormant.
This slow growing plant spreads by suckering shoots gradually forming a low-growing mound of evergreen foliage. The dark green leaves are slightly rippled and the white flowers are eventually replaced by glossy black spherical fruits. It is a very adaptable and reliable shrub that is easily grown in most situations including dense shade with very dry soil. It will also grow in full sun.
From Greenfingers inspiration for your garden
Hardy evergreen shrub (Christmas Box)
Succeeding in any fertile soil
Especially happy in chalk
Dense suckering habit, excellent ground cover
Shade-tolerant but will also grow in full sun
Very dark glossy foliage suitable for cutting
A profuse of fragrant small creamy-white flowers
In late winter has distinctive red to pink anthers
Followed by shinning black berries in the autumn
Excellent plant in a coloured pot on a patio

feed in the spring
Can be seen in the Winter Gardens at the Hillier Gardens, Romsey, Hampshire:
Highly fragrant honey-scented white flowers; each one emerging from a deep pinky-red bud
Retail Stockist bottom of the page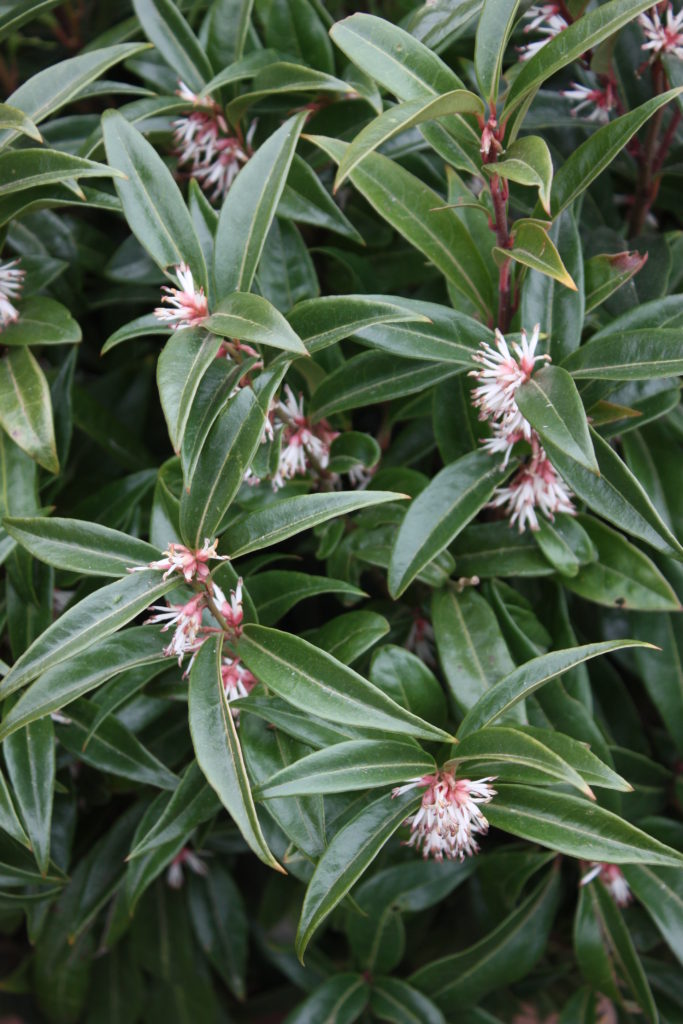 Highly fragrant honey-scented white flowers
This new hybrid form (S. hookeriana var. digyna 'Purple Stem' x S. hookeriana var. humilis), has inherited the best qualities of both its parents. It has larger than average leaves, which are a glossy rich green and highly scented white flowers in winter that are followed by spherical, glossy, red berries that ripen to black. Tough and tolerant of most conditions, it is especially valuable for shadier areas.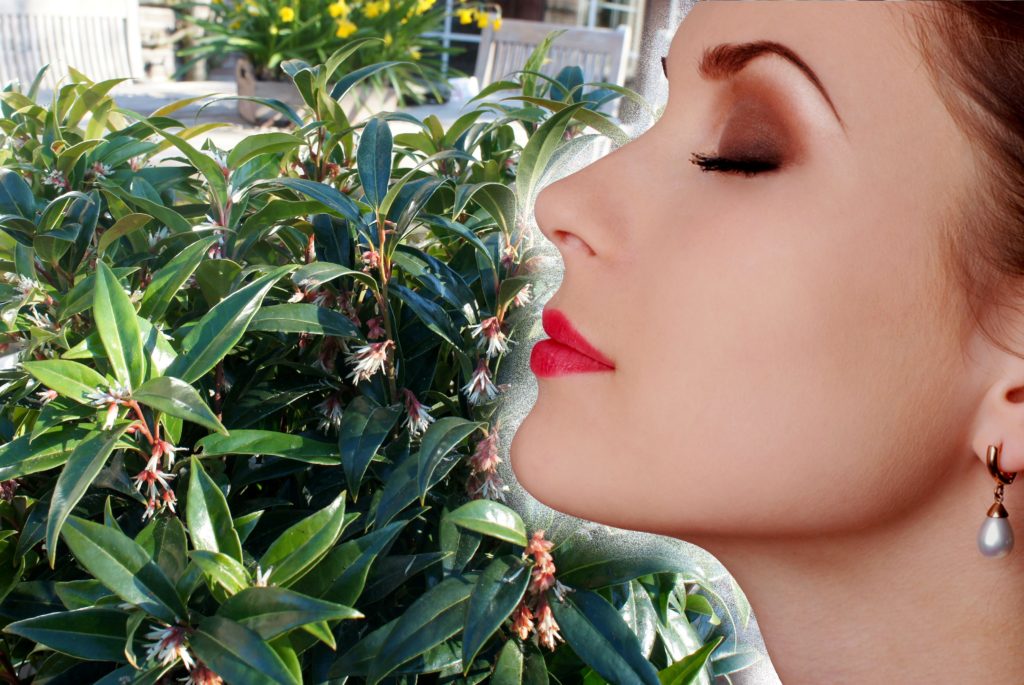 Fills a garden with perfume on a winters day from Christmas to March. It flowers in the dead of winter when very little else dares to grow.
 Grower Information  Trade   
Agents
ProVaR UK
sales@protected-varieties.co.uk
International  The world except USA
Concept Plants USA
https://conceptplants.com/varieties/sarcococca-humilis-winter-gem/
Trade  wholesale
Liners
Trade  wholesale saleable stock to garden centres
Retail Stockist below photo
Roy Lancaster OBE
It is wonderful in a patio pot at the front door or as a little hedge along a path or steps leading to the door.
Retail Stockist
France
Translated
Winter Gem is a good plant, useful in small gardens due to the fact that it does not grow too quickly; is compact (around 70 x 70), with a beautiful perfume; buds are already appearing which will open to give highly scented flowers; it has shiny dark green leaves and flowering time is March to April.   Needs a fairly light soil with dappled shade – no direct sun.  Prune lightly after flowering to retain its compact shape.
 In my experience it will grow in full sun
Sarcococca  hookeriana 'Winter Gem will very slowly grow up to 3-4ft high and wide in 10 years.  Can be pruned in the spring.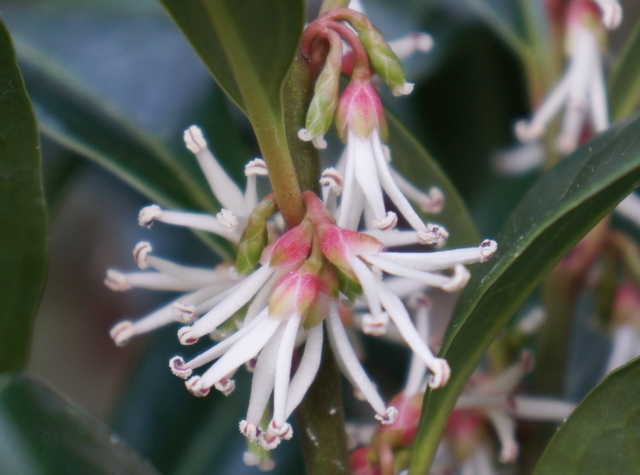 Photo's by Peter van Rijssen  from royalty Management agency Plantipp BV/Concept Plants USA
Sarcococca  hookeriana 'Winter Gem'  LJ lisselstein The Netherlands   15/02/2015
Youtube by Peter van Rijssen  from royalty Management agency Plantipp BV/Concept Plants USA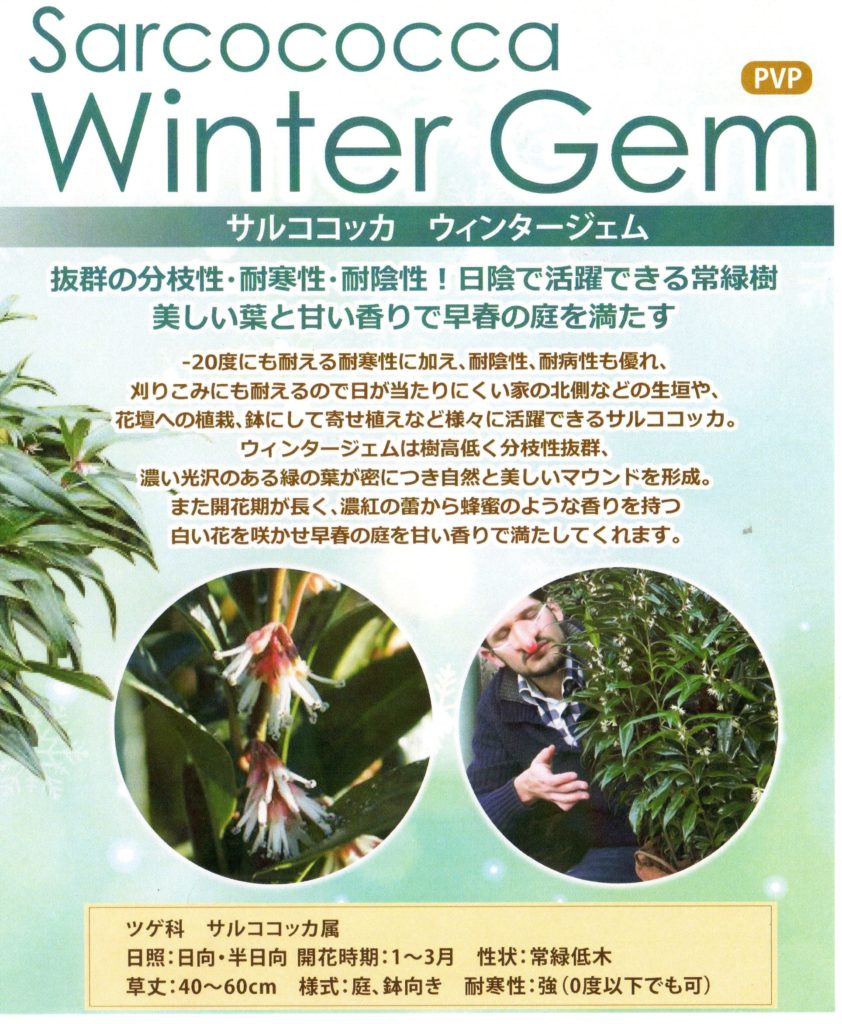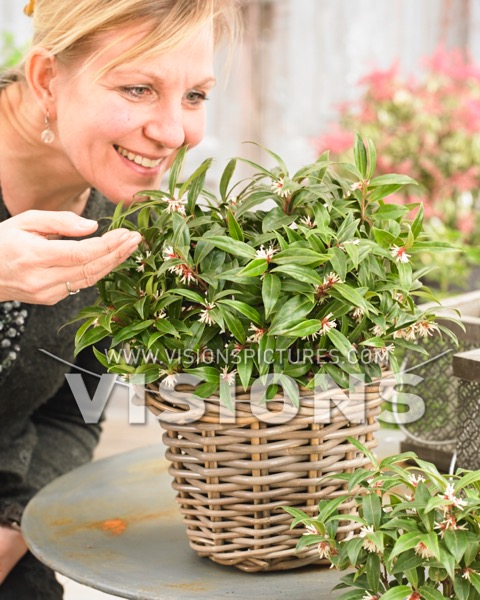 From Plantipp & Concept Plants
Project Details
Genus

Sarcococca

Species

hookeriana

Cultivar

'Winter Gem' pmoore03 EU EU38472 USA 13/998.667

Category

Shrub

Height & Spread

30 - 60 cm 1ft-2ft x 2ft 6 years possible 3-4ft in 10 + years

Plant Breeders Rights

--Propagation for resale is illegal without a licence from the Agent

Colours

Photos credited to Richard Loader have copy right FhF Greenmedia | richardloader@aol.com | http://www.richardloader.com