Project Description
Weigela is a small genus of about 10 species of hardy deciduous spring flowering shrubs, native to the temperate  E Asia,
They are very decorative and easily grown, excellent for town gardens particularly in industrial areas.
'Dark Horse' is one of the best of the compact purple leaf cultivars.
Full sun preferred
Any well drained fertile soils
Well drained soil & low water requirements
Level of care low
Rate of growth moderate
Foliage: deciduous glossy dark purple maroon foliage that holds its colour well
Flowers are trumpet-shaped blooms in clusters of deep pink and are abundant
Habit: tight, compact, self branching and rounded  2.5ft x 3ft
Bloom time: Spring-early summer
Drought tolerant once established. Attracts hummingbirds and Deer resistant
Stockist bottom of the page    Only available in the USA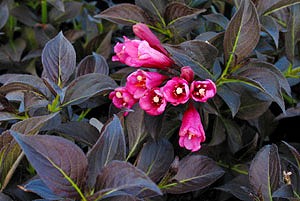 Weigela 'Dark Horse
Agent
USA
Weigela 'Dark Horse' Plant Information
'Dark Horse' (Weigela florida 'Dark Horse') is one of the best of the purple leaf group. An especially compact, deciduous shrub, this variety of an old-fashioned favourite works well as a specimen in a tight space and is attractive as part of a mixed shrub border. It grows in U.S. Department of Agriculture plant hardiness zones 4 through 8.
Weigela 'Dark Horse' is named for its unusual, dark purple leaves that keep their colour even during the hottest summer months when foliage fades on many purple-leaved plants. It has exceptionally dense foliage on a compact, rounded bush that reaches a height of 2 to 3 feet at maturity. 'Dark Horse' blooms profusely from April to June, covering itself in dark pink, 1-inch-long, trumpet-shaped flowers that attract hummingbirds. This variety can also have a second, less heavy bloom during the summer.
'Dark Horse' Weigela does best in a location that gets full sun. Although it can tolerate some light shade for part of each day, it might bloom less profusely and have lighter leaf colour under these conditions. When using this shrub in a mixed shrub border, choose a spot where its exceptional leaf colour can be appreciated during the entire growing season. This plant is tolerant of most soil types, but needs good drainage for best growth. A site that tends to hold water for long periods of time is not a good choice for 'Dark Horse', although you can add fine sand to the soil in your planting site to improve drainage.
Water and Fertilizer
Weigela 'Dark Horse' needs an average amount of moisture, although watering a new specimen weekly during its first year can help it establish a healthy and extensive root system. Once established, the plant is quite tolerant of dry spells. 'Dark Horse' doesn't require regular fertilizing, but adding a slow-release granular fertilizer, such as 10-10-10, at the start of each growing season can help give the plant a boost and promote good flowering. Mix 1/4-cup of fertilizer into the soil at the plant's root zone, taking care not to cultivate too deeply, because this might cause root damage.
Although 'Dark Horse' Weigela has a naturally pleasing growth habit, you can prune a specimen to help keep it bushy and well branched. This is best done shortly after flowers fade, because the plant blooms on old wood, and this schedule won't interfere with flowering the following spring. Removing old branches at ground level and cutting vigorous, young branches back by about one-third helps produce strong new growth. 'Dark Horse' is quite free of insect pest and common diseases when grown in well-drained locations.
http://homeguides.sfgate.com/weigela-dark-horse-plant-information-74945.htm
Wednesday, July 9, 2014
Weigela florida 'Dark Horse' is my favorite plant in the garden, this week…
Oh those silly people who purchase only plants they have a place for, they don't know what they're missing out on! I happened to be at Means Nursery a couple of weeks ago and fell hard for these dark leaves with bright green venation, how could I not? Especially when the price tag said $5.99…
Only available in the USA
Agent
USA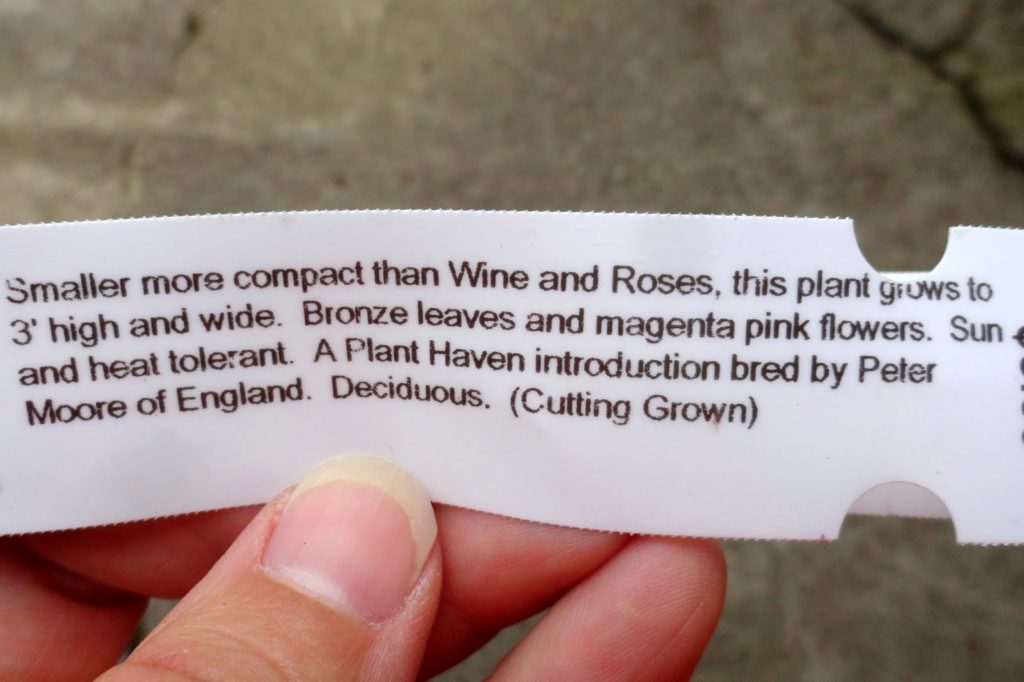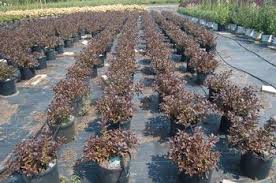 Propagation for resale is illegal without a licence  from the Agent
Trade Wholesale    Only available in the USA
Liners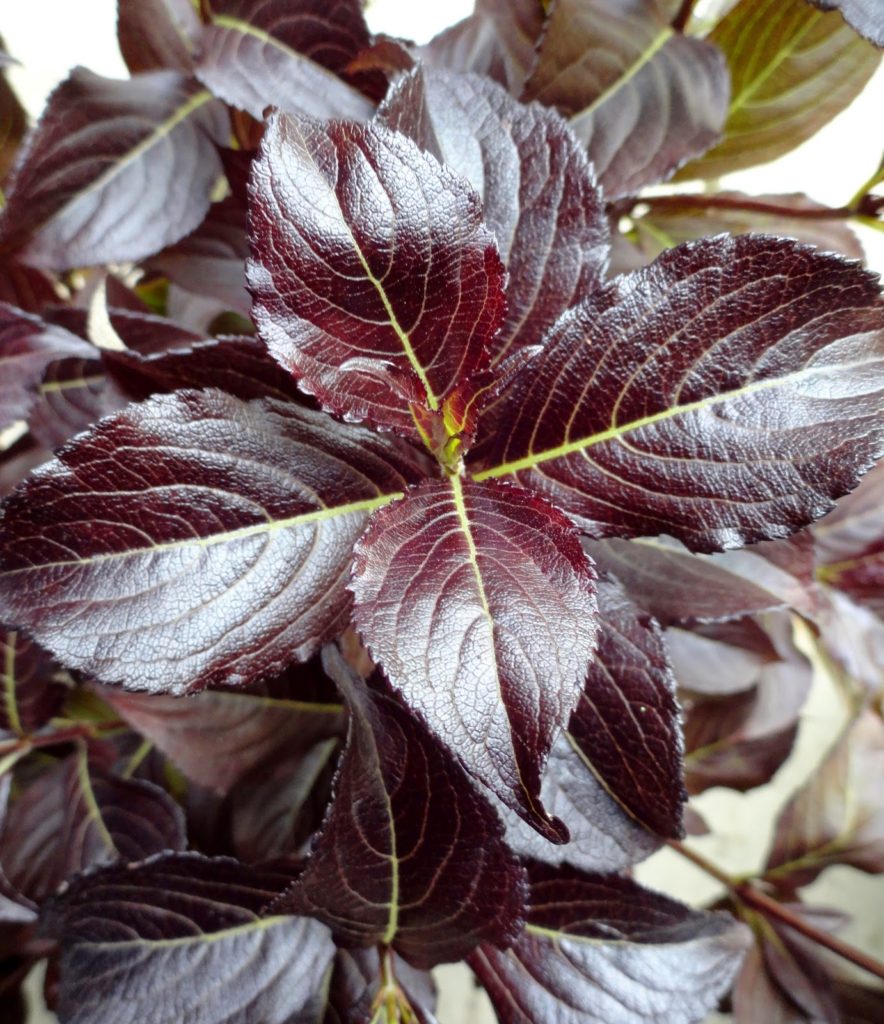 Retail Stockist
"I'm sincerely gratefully to Geoff Needham of PlantHaven who came to my garden in Southampton in 1997 and saw a dark leaved Weigela, later to be named Weigela 'Dark Horse'. Without his help putting it into tissue culture it would not have become the best seller it is today."

Peter Moore
Project Details
Genus

Weigela

Species

florida

Cultivar

'Dark Horse' USA PVR patent

Category

Shrub

Height & Spread

2-3 ft x 2-3 ft

Plant Breeders Rights

Propagation for resale is illegal without a licence from the Agent (only available in the USA)

Colours

Colours and sizes are approximate and are intended as a guideline and may vary according to local conditions.